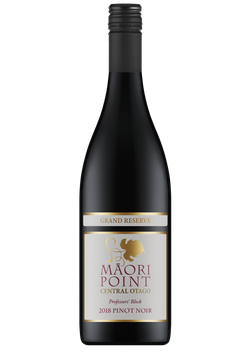 Maori Point Vineyard
2018 Maori Point Grand Reserve Pinot Noir - Professors' Block
In 2014, after eight years of careful observation and winemaking, we designated the Professors' Block, a single acre of Abel and 10/5 clones that creates our Grand Reserve: our most elegant, layered, and long-lived wine.
PRACTICES
We follow organic principles and then proceed further, nurturing the soil and indigenous microflora by making our own compost and planting native vegetation. Vine pruning, leaf pulling, straightening shoots, and harvesting are all done by hand. We provide special attention to the Professors' Block, and at harvest time this acre is harvested and fermented individually, in our winery adjacent to the vines. The fermentation by native yeasts, worked by hand and exposed to ambient temperatures, allows true expression of vineyard and vintage. Malolactic fermentation occurs naturally during the twenty two months the wine is in barrel (primarily French oak, up to 50% new). We rack once in summer, use minimal sulfites, and do not fine or filter. Our wines are vegan friendly.    
GROWING SEASON
The 2018 growing season in Central Otago was notable for an unusually warm and dry spring. The warm temperatures persisted through January, but then February brought cooler weather and higher than average rainfall. Despite a few warm days, the generally cool temperatures extended through into harvest. Nonetheless, the early season heat accumulation and accelerated ripening provided for good fruit set and crop levels. Harvest occurred approximately two weeks earlier than usual, on April 4th and 5th..
TASTING NOTES
The warm spring then cooler autumn creates a softness and balance that echoes the 2015 vintage. The nose reveals dark cherry, red currants, caramel, and anise. The palate adds in roasted notes, savoury detail, and sous bois. With freshening acidity and well-formed tannins it is structured and deeply textural, yet still gentle and supple. Lifted, layered, and ethereal, the silky tannins and long finish indicate that this wine will age well for 11 to 14 years.